blog → author profiles → Joe
Joseph Barillari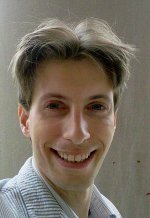 Joseph Barillari is the author of Virebo and your primary correspondant for the Virebo Blog. Joe been involved in computing in a professional capacity since his early teenage years, when he took a summer job updating software and preparing (read: scrubbing) hardware for his local school district.
Joe launched Virebo in the spring of 2009.
Joe is on leave from a Ph.D. program in computer science at Harvard and in medical engineering at Harvard and MIT. He received an A.B. in computer science from Princeton in 2004 and a S.M. in the same field from Harvard in 2007.
contact email: jdb@virebo.com